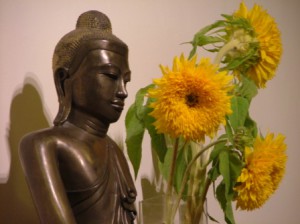 The Edinburgh Buddhist Centre is part of the Triratna Buddhist Community (formerly Friends of the Western Buddhist Order) an international Buddhist movement whose aim is to make the Buddha's teachings applicable to modern western life.
The centre no longer has its own premises. However, we continue to offer a range of activities operating through the Healthy Life Centre, 35 – 37 Bread Street, just off Lothian Road.
We run introductory courses as well as events for regulars. We also run Buddhist Meditation 'taster' sessions during the Edinburgh Festival Fringe.